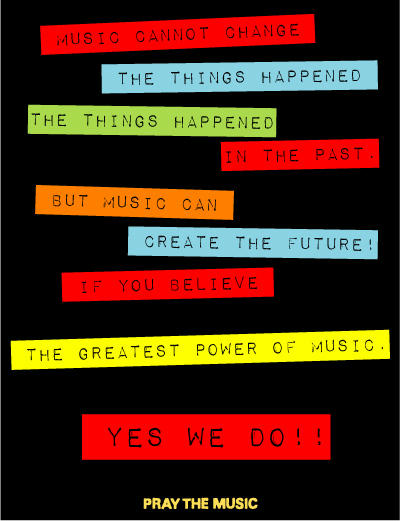 It's Saturday now!! ONE MORE DAY TO GO!!
This is our Final announcement for the event!!
DOOR TICKETS

are

available

!! (Limited numbers)
So please make sure you purchase your tickets before they all sell out!!
Door tickets sale from 4pm!!
NEW INFORMATION!
If you miss your ticket to PRAY THE MSIC Upper Floor!


Now We decided to OPEN the Basement floor After 6pm for just the donation entry!!


Basement floor (MARKET, Acoustic Set Live and DJ form 8pm) : FREE ENTRY 4pm to 6pm
ID is required when entering the venue.
If people want to bring their kids they can, so long as they are
supervised and leave before 9pm
.
Aside from the great live music, there'll also be a market space as well as a message book where you will be able to write words of kindness and strength to all those affected.
The First 50 ppl arrive the venue
will get Free CD from DOINGLIFE (Bridge Sounds label).
The Charity wristband for JAPAN LIMITED to 50 ONLY
Upper Floor Main Stage
16:30 - 17:00
RYOKI
17:10 - 17:40
SOFASOUL
17:55 - 18:35
ASAMI
18:50 - 19:35
GEORGE KAMIKAWA & NORIKO TADANO
19:40 - 19:50 RUFFLE announcement round 1
19:55 - 20:40
The Wellingtons
20:50 - 21:00 RUFFLE announcement round 2
21:00 - 21:45
MACH PELICAN
21:45 - 22:00 RUFFLE announcement round 3
Basement Floor
MARKET Open 16:00 - 19:30
Acoustic Set Stage 16:00 - 20:00
16:00 - 16:15
Ichimadin
16:15 - 17:10
FUEFUKUROU
17:10 - 17:25
Ichimadin & FUEFUKUROU
17:30 - 18:20
YAMATO
18:30 - 20:00
RYOKI with his Friends
SPIN THE TUNE 20:00 - 22:50
DJ TakaCo aka Head Chef Sonik and SHINGO
Charity Ruffle for JAPAN & NZ
Ticket : $2 each
RUFFLE ENTRY CLOSE 20:30
RUFFLE PRIZES
Donation from
JAPANEASY
TOSHIBA REGZA (40CV700A) 40inch WIDE SCREEN LCD TV x1
Donation from
Jesus Dynamite Japan and Big Black Maria Bead necklace with silver charm x2
Donation from
The Wellingtons CD"Keeping up with the wellingtons" x5, The Wellingtons T-Shirt x3 and CD "I AM" by McKenna x10
Donation from
YUTAKA IZUMIHARA (actor)
HBO THE PACIFIC DVD BOX SET x1
Donation from
TOOLZ
Women's Wear Coordinate set x2
Donation from
Ayagurumi Knitted & stuffed doll ×2

Donation from
U-room
Facial or Body Massage Voucher ($75) x1
Donation from
Terry Koubou Pottery
Ceramic large bowl ×2
Donation from
Madman Entertainment DVD BOX SET x5
Donation from
NISSAN AUSTRALIA
Nissan Aus FOOTY SHOW BAG x20
Donation from
JOHN's TOUR
WINE (RED) x1 and WINE (WHITE) x1
Donation from
WISH AUSTRALIA
THE COLONIAL TRAMCAR RESTAURANT Early Dinner for 2 x1
Thank you for supporting us
3zzz Raido, GOGO!!MELBOURNE, NICHI-GO PRESS, DENGON NET,
IAE, JAPANEASY, WISH AUSTRALIA, Jesus Dynamite Japan, Big Black Maria,
YUTAKA IZUMIHARA, TOOLZ, Ayagurumi, U-room, Terry Koubou Pottery,
Madman Entertainment, NISSAN Australia, JOHN's TOUR, DOINGLIFE, Horsebazaar,
The Wellingtons, Mach Pelican, George Kamikawa, Noriko Tadano, ASAMI,
SOFASOUL, RYOKI, Ichimadin, FUEFUKUROU, YAMATO, DJ TakaCo aka Head Chef Sonik, SHINGO,
European Bier Cafe, Everyday Hero Australia, Melbourne For Japan, hiramari,
PEDAL FOR JAPAN, HELLO FROM MELBOURNE, naoの趣味ぶくろ Melbourne,
WE LOVE JAPAN from around the wold! SAORI LIZ OCHIAI,
Tomoka Natural Skin Care, HANAKO KAJIYA, CHISATO & KEI SAITO, SORA TANIGUCHI,
RUN FOR JAPAN, MONASH UNIVERSITY JAPANESE STDDUES CENTRE, JSAA Conference 2011,
Japanese Society Of Melbourne.
PR